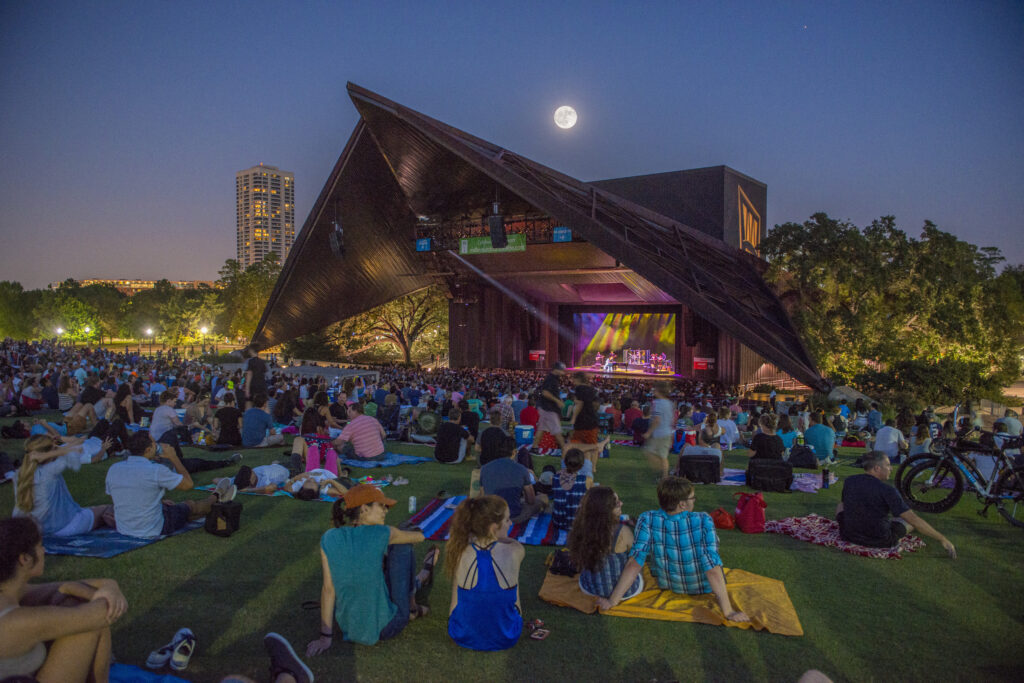 We look forward to hosting Juneteenth: The Journey To Freedom, to help make the most of your experience please read the following information and tips:
Location: Juneteenth: The Journey To Freedom will take place at Miller Outdoor Theatre with the pre-show starting at 8:00 p.m. and the program starting at 8:30 p.m. The venue is located at 6000 Hermann Park Drive, Houston, TX 77030 in Hermann Park, just south of the Museum of Natural Science and the McGovern Centennial Gardens.
Tickets and Seating: There are two types of free seating at Miller Outdoor Theatre: Covered Seating and Hillside Seating.
Covered Seating: Covered seating requires a ticket, attendees can reserve their free tickets starting Saturday, June 18 at 10:00 a.m. until noon on the day of the performance using the following link:

Miller Outdoor Theatre | Get Tickets

. Please be advised of the following guidelines:




You must be 16 or older to order tickets
Late seating is not available
Unoccupied seats may be released to the public at management's discretion.
For more information on covered seating, click here.

Hillside Seating: Hillside seating is not ticketed. We recommend you bring a blanket or a lawn chair, a picnic, to enjoy the show. Please be advised of the following guidelines:


Hill seating will be on a first-come/first-served basis.
To ensure audiences have an optimal view, lawn chairs will be placed on the left, while blankets will be at the right of the stage.
No glass containers of any kind are allowed
Pets are not allowed
For more information on hillside seating, click here.
There are easily accessible wheelchair spaces in the covered seating area and listening devices/headsets are available at no cost at the Miller Security Desk one hour prior to curtain time. A valid Texas Driver License or state-issued ID is required as a deposit. For information on these and other seating accommodations, call 832-487-7123 in advance or click here.
Food: The concession stand opens 2 hours before evening shows begin and offers refreshments and other supplies for picnics. Please be aware concessions stands only accept credit cards. Attendees may also bring their own food and beverage, so long as it is not in a glass container.
Parking: Various parking options are available for visitors including:
Free Parking


Free parking is available at the large central parking lot in front of the Houston Zoo, near Miller Outdoor Theatre, and at the McGovern Centennial Gardens. Free parking is also available at the golf course clubhouse located at the corner of Almeda and MacGregor and at the Bayou Parkland Pavilion.

Paid Parking


A for-fee parking garage is available at the Houston Museum of Natural Science. In addition, on weekends, visitors may park in the Memorial Hermann Medical Plaza Garage at the corner of Cambridge and Fannin across from the Park for a flat rate of $6 per day (subject to change by Memorial Hermann Medical Plaza Garage).
Handicap Parking


The Miller Outdoor Theatre has a drop-off lane for handicapped patrons on Hermann Park Drive across the McGovern Centennial Gardens. Limited handicapped parking is available on the Miller lot behind the theatre.
Prohibited Items:
Smoking is prohibited in Hermann Park and at Miller Outdoor Theatre, including the hill, seated area, and plazas.
No audio or visual reproduction of any portion of a presentation at Miller Outdoor Theatre is permitted without the express written consent of the City of Houston.
Glass containers are prohibited in City of Houston parks, including Miller Theatre.
Pets on leashes are allowed in Hermann Park, but they are not allowed in the seated area of the theatre or on the hill.
For more information, please visit: https://www.milleroutdoortheatre.com/